Boost Your Travel Agency's Potential with a Budget-Friendly Booking Engine
Elevate Your Travel Company's Performance with Our Fllight Booker Go! – Effortless Integration on Leading CMS!
Get Flight Booker Go! Like Dozens of Other Travel Agencies.
Low priced Flight Booking Engine made for Travel entrepreneurs
Embrace Independence: Breaking Free from Single GDS Limitations
Embrace Global Reach: Multilingual & Multi-currency Capabilities
Unlock Infinite Travel Possibilities: One-Way, Round Trip, Multi-Trip, Open Jaw, and Flexible Date Searches
Simplicity Unleashed: No Programming Required
No more time wasted, grow faster
Fully Responsive
We have tested our code on a multitude of phones and tablets to ensure smooth user experience on all platforms.
Retina Ready
All of the graphics in our theme are of high resolution to ensure that your website looks crisp on modern displays.
Form Builder
Fully-customizable booking form that can be used on any device with Form Builder build-in.
Click Importer
Import with just one click all demo data to start building your own site. There is no need for XML file.
Mega Menu
Mega Menu integration by use Visual Composer very easy to use can show for images, icons with a nice layout.
Email Template
Flexible to make various email templates for notifications by shortcodes build-ins.
Multi - Language
Multi-language, compatible with WPML and RTL layout with Arabic languages.
Multi - Currency
Multi-currency, set one Currency as Primary then with other one make exchange rate with Primary Currency.
Wishlist
Wishlist to save all services interested in by buyer ready supported.
Booking History
Booking history with show status of booking like pending, canceled, completed…
Build-in Analytics
Build-in analytics with booking statistics with the chart, in balance, income. Can make a filter by date for more visually.
Invoice Manage
Invoice manage, system automatic make to Invoice attach to notification email for each booking process.
Make Review
Make a review for all services, with some options, allows required booked or no need can make reviews.
Communication via Inbox
Vendor, Partner can communication with the buyer via Inbox function before booking.
Social Login
Integrated by built-ins with Google, Facebook login. Difference register form normal user and Partner / Vendor user.
OTA Calendar Syncs
Support many major OTA Calendar syncs ( ICal ) like Google Calendar, TripAdvisor Calendar, Airbnb Calendar,...
Calendar Control
Can control everything with pricing by date on the calendar.
Inventory
Inventory for Hotel/Room to manage and get an overview of booking for all rooms in one place.
Affiliate System
Start earning for Blogger, Affiliater with some OTA we checked: Travelpayouts.com, Booking.com,...
Coupon
Make Coupon for one service or all services for competition with business.
Discount
Set Discount by date from one to all services on site.
Refund Manager
For Admin and Partner/Vendor. Support Refund workflow between Buyer and Vendor / Partner and site Owner.
Support Location
Support Location post type for build location structure by your way. Included lat & longtidule of Google Map.
Many services you can use for your travel site and can make On, Off by config: Hotel, Room (Accommodation), Tour, Rental, Car, Flight.
These are list of services you can use and show it ON/OFF in Theme Settings.
Partner Dashboard Statistic
The Partner, who upload listing on the system can manage their profile and online booking calendar, booking history with completed and pending status.
The partner can create and manage their listings on the frontend by using the partner dashboard.
Support build Advance Search very easy to make searchable stronger.
Friendly search form with strong filter options that help visitor easy to find any service.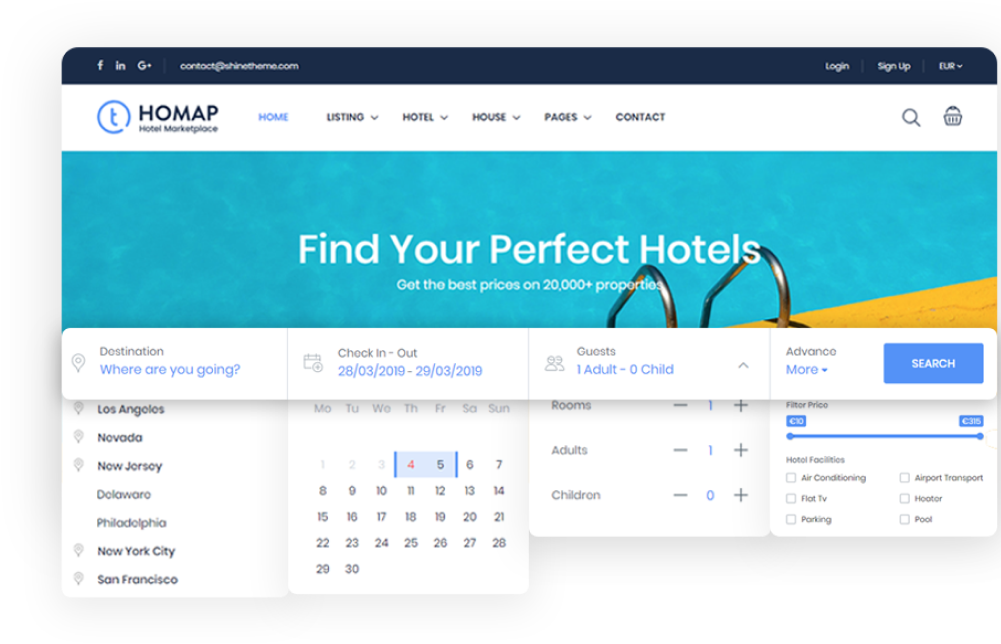 Support With strongly filterable, sortable and searchable booking list that you can configuration and make the layout on site friendly as you want. Advance Search very easy to make searchable stronger.